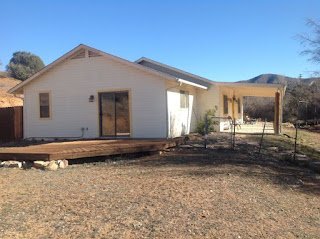 As I've alluded to in my last couple of posts, anyone who's ever dealt with property management of their own rental property, especially long-distance, has experienced some of the stresses and strains associated with it. Management of rental property doesn't have to be and isn't always stressful. But, lack of knowledge or experience, can turn normal and occasional little "aches and pains" into bona fide migraines. In addition, people with extensive knowledge and experience in the field, can still be taken by surprise and overwhelmed by some of the critical details of the process, if it is not their main focus.
I remember enjoying the satisfaction that came from being able to open the hood of my first car, (a 1952 Chevrolet Sport Coupe that my Dad bought for me when I was in high school) and being able to generally recognize what I saw inside, what it actually was, what function it performed, and in many cases, how to fix, repair or replace it if it went bad. Over time I got fairly handy with the basics of such maintenance and repair. But that didn't make me a mechanic, and when, eventually, major maintenance or repair became needed, I took it to someone who had the experience and expertise to do what I would likely have roundly messed up on my own.
That principle applies in most areas of expertise, including rental property management. So, If you, or someone you know, are noticing increase in frequency and intensity of what some see as the headaches of managing personal rental property, I offer below, for your review, an overview of what Far West Realty's Property Management division offers.
Far West Realty's Property Management division is a selective, high-quality service organization. Managing less than a hundred carefully chosen properties, we are a fairly small company, focused entirely on meeting the individual needs of each of our clients, and his or her well-maintained property. Our motto is, "Our Clients Are Our Business" and it is our policy to keep our clients' interests ahead of all others, even our own. To qualified prospective clients, we offer the following:
Property Maintenance Oversight.
Periodic Walk through Inspections of your property to monitor property condition.

Receipt and Handling of Maintenance Calls from Tenants

Coordination of Needed Maintenance according to Owner Instructions, utilizing highly qualified vendors whom we've vetted over time for quality and reliability.

Review of Maintenance Work to assure timely completion and quality of workmanship.

Direct Payment of Vendor Invoices on owner behalf, according to Owner instructions.
Tenant Acquisition, Qualification and Management.
Appropriate, On-Site Signage

Broad-Spectrum Online Advertising

Thorough Screening of Prospective Tenants through AAA Investigative Services.

Careful Selection of the Best Qualified Candidates as tenants in complete accord with all Fair Housing Laws.

Drafting and Execution of Lease Agreements in accordance with owner instructions.

Exclusive use of Arizona Association of Realtors Lease Contracts.
Property-Specific Finance Management and Accounting.
Monthly Collection of Rents.

Prompt Resolution of Late or Non-Payments, and NSF Payments.

Itemized Account Statements, detailing all income and expenses, sent to you monthly, along with your proceeds for that month. Rental proceeds can come directly to your bank account via our online portal system, or the old fashioned way – USPS. It's up to you

Full Access to all your account information, 24 hours a day, 7 days a week, through our secure online portal, provided by Rent Manager, for a small monthly fee.
'Till next time, here's wishing each of you the best of success in all your rental investments.
If you see something you think you and your rental(s) could benefit from, call me, Dave Hamill, at 928-772-9400. Conversation and quotes are always free.